Bagley-Stewart
The Bagley-Stewart Memorial
In memory of David Bagley and Shane Stewart, two of our teammates who passed away in their youth, a memorial was erected near the third-base line of Field #4 at the Driver facility.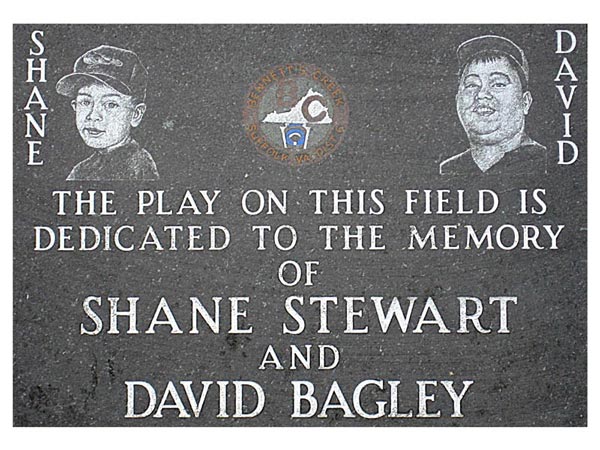 Bagley-Stewart Scholarship Fund
The David Bagley - Shane Stewart College Scholarship Fund was established in 2000 and offers two scholarship awards (one boy's and one girl's) for college bound high school seniors. The amount of each scholarship for 2008 will be $500.00. To be eligible for the scholarship, the applicant must have played on a team at Bennett's Creek Little League for at least one complete year, be a graduating high school senior, and have an acceptance letter from a College or University.
To compete for the scholarship, the applicant must submit an essay, answering one of the following questions:
What have you learned from your participation on teams at Bennett's Creek Little League that will assist you in college and beyond?
Identify one coach or teammate from your participation in Bennett's Creek Little League who has been an inspiration to you. Describe why this person inspired you and how you can apply those lessons learned in becoming a role model for others.
Describe the parallels between baseball/softball and life. Tell us how the lessons learned from these parallels can inspire you and others to personal excellence and public service.
The essay must be a minimum of one (1) typed page, with no restriction on the essay length. The essay will be judged on grammar, composition, and spelling. A cover sheet should be provided with the essay, which must include applicant's name, address, telephone number, age, graduating high school, grade point average, College/University which he/she will be attending, and identification of team(s) and dates of participation at Bennett's Creek Little League. Please include the names of your parents as well. A copy of the applicant's letter of acceptance from a College or University must also be attached. Questions should be addressed to Louis Bagley (238-3202).
Mail essay package before June 14th to:
Louis Bagley
2145 Partridge Place
Suffolk, VA 23433
Bagley-Stewart Sportsmanship Award
This Sportsmanship award is being awarded to the one player in each BCLL age division who exemplifies the true meaning of the sportsman, both on and off the field. The following are criteria to be used to determine which one ballplayer from each team should be nominated to compete for this award in their division:
Helps other players
Always gives 100% effort on the field
Displays enthusiasm and team spirit on and off the field
Sets a good example for his/her teammates
Plays fair at all times
A ballplayer who is a graceful loser
Doesn't argue with Umpires, Coaches, or Team Parents
A ballplayer who is polite and courteous
Actions on the field are always in the best interest of the team
Always comes ready to play, both in practice and games
Provides useful input to other players to help them improve their game
One award will be given per division. All nominated players will receive a certificate. The following information is required for each nomination:
Full Name of Nominee
Date of Birth of Nominee
Parent's Names and Address
Nominee's Team and Division
Describe why this nominee should be awarded the Division Sportsmanship Award
For any questions: Contact Louis Bagley 238-3202
• Back to Top •